This Thanksgiving Day, I'm lifting up prayers for anyone who is hurting because I've been there.  I've grieved the loss of friends and the loss of family members including both of my parents.  I've also suffered enough to know that we don't always make the best decisions when we're hurting or under pressure.
The scriptures tell us, "and we know that in all things God works for the good of those who love him, who have been called according to his purpose."  (Romans 8:28 NIV)   It's often hardest to feel close to God when we're going through a storm, but this song by Laura Story conveys the depth and constancy of God's love for us beautifully.  He is always, ALWAYS there for us, but we must remember to seek Him and watch for Him working in our lives.

And in the aftermath of the Ferguson grand jury verdict, I offer two excellent viewpoints, one from a black woman married to a black police officer, and the other from a well-respected NFL player, along with my prayer that we will have peace while we wait to see God use this incident, and so many others like it, for good.  The waiting is always the hardest part but God is there with us for that too.
I offer continued thanks and prayers for the men and women of our armed forces and their families, who sacrifice so much for our great nation.  Prayers for our first responders, doctors, nurses, teachers, clergy and all those who make it a priority to serve and care for others.  Best wishes for a very blessed and Happy Thanksgiving.
http://www.cnn.com/2014/11/25/opinion/simmons-ferguson-grand-jury-complicated/index.html
Editor's note: Safiya Jafari Simmons is CEO and chief strategist of SJS Consulting, a Washington public relations consulting firm. She is communications director for the Congressional Black Caucus, the Center for Policing Equity and other clientele. She has been a press secretary to U.S. Rep. Elijah E. Cummings, D-Maryland. She lives in Washington with her husband, a police officer, and their three children. The opinions expressed in this commentary are solely those of the author.
(CNN) — I dreaded the Ferguson grand jury response for weeks. Not simply because I knew it was likely to lead to more heartache and unrest for the black community — my community — but because it would most certainly dredge up deep internal conflict for me.
I'm raising a black boy to be a black man. So the grand jury's decision seems to double down on a pattern in this country of killing black boys without care or consequences.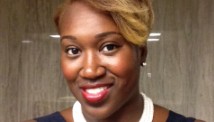 Safiya Jafari Simmons
But I'm raising my black son with my black husband, who also happens to be a police officer in Washington. And being the wife of an officer means I can't support either camp fully — neither the outraged black community nor the justice system sworn to protect us.
When my husband first donned his uniform nearly 10 years ago, I told him clearly and directly: "You do whatever you must to come home to me." Nearly a decade and three children later, he's heeded that order, navigating the dangers that only populate my nightmares — just to make sure he comes home.
The irony isn't lost on me. I know what the research says. I know that this country often denies agency to African-American boys, and that they're often seen as a threat just by virtue of their skin color.
But in moments such as this, it's the denial of agency to law enforcement officers that angers me.
All cops aren't bad. All cops aren't racist. Many cops have spouses and children. They have loved ones and friends and pets. They leave all this every day to place themselves in harm's way for people they never meet.
They love their communities. They want the law of the land to work as it's supposed to. They don't like to see children hurt, people taken advantage of. They are people doing a job that few are brave enough to take on.
So when I heard St. Louis County Prosecuting Attorney Robert McCullough describe how Michael Brown allegedly lunged at Officer Darren Wilson in his police car, I knew it was likely that my husband could have responded the same way: shoot to disable the threat. Do what he must to make it home to us at night.
This is part of my reality. It's how I process these incidents now.
But it was also my reality when, as we sped home to relieve our sitter one night, my husband and I were pulled over by a police officer on a dark, wooded parkway in Virginia. And I watched my husband, an officer for nearly 10 years, immediately turn off the car, turn on all the interior lights, place the keys on the dashboard and put his hands on the steering wheel.
He turned to me, calmly and coolly, and said, "Get our insurance card out. Don't make any sudden moves, and leave your hands on your lap."
I froze. I teared up, and fear welled up as a lump in my throat. Because that night, before he was an officer, my husband was a black man. Like Michael Brown and Trayvon Martin and Oscar Grant.
These conflicting parts of my reality are why the South Carolina state trooper shooting earlier this year isn't, to me, a black-and-white case of excessive force used by white law enforcement on an unarmed black teenager. And it's why I've not waded into the debate waters on Michael Brown either.
Because I need my husband and his colleagues to make it home. Every night.
So I can't "like" many of the stirring posts I scroll through on Facebook or Instagram or Twitter. I can't post my own rants of outrage at the failings of our justice system, nor can I post any statement that might be interpreted as in support of the Ferguson officer. Not because I can't connect to them or feel them on some level, but because it's complicated.
And complicated in a way that no one seems to respect or acknowledge or care to understand.
https://www.facebook.com/BenjaminWatsonOfficial?fref=nf
At some point while I was playing or preparing to play Monday Night Football, the news broke about the Ferguson Decision. After trying to figure out how I felt, I decided to write it down. Here are my thoughts:
I'M ANGRY because the stories of injustice that have been passed down for generations seem to be continuing before our very eyes.I'M FRUSTRATED, because pop culture, music and movies glo
rify these types of police citizen altercations and promote an invincible attitude that continues to get young men killed in real life, away from safety movie sets and music studios.
I'M FEARFUL because in the back of my mind I know that although I'm a law abiding citizen I could still be looked upon as a "threat" to those who don't know me. So I will continue to have to go the extra mile to earn the benefit of the doubt.I'M EMBARRASSED because the looting, violent protests, and law breaking only confirm, and in the minds of many, validate, the stereotypes and thus the inferior treatment.I'M SAD, because another young life was lost from his family, the racial divide has widened, a community is in shambles, accusations, insensitivity hurt and hatred are boiling over, and we may never know the truth about what happened that day.I'M SYMPATHETIC, because I wasn't there so I don't know exactly what happened. Maybe Darren Wilson acted within his rights and duty as an officer of the law and killed Michael Brown in self defense like any of us would in the circumstance. Now he has to fear the backlash against himself and his loved ones when he was only doing his job. What a horrible thing to endure. OR maybe he provoked Michael and ignited the series of events that led to him eventually murdering the young man to prove a point.
I'M OFFENDED, because of the insulting comments I've seen that are not only insensitive but dismissive to the painful experiences of others.
I'M CONFUSED, because I don't know why it's so hard to obey a policeman. You will not win!!! And I don't know why some policeman abuse their power. Power is a responsibility, not a weapon to brandish and lord over the populace.
I'M INTROSPECTIVE, because sometimes I want to take "our" side without looking at the facts in situations like these. Sometimes I feel like it's us against them. Sometimes I'm just as prejudiced as people I point fingers at. And that's not right. How can I look at white skin and make assumptions but not want assumptions made about me? That's not right.
I'M HOPELESS, because I've lived long enough to expect things like this to continue to happen. I'm not surprised and at some point my little children are going to inherit the weight of being a minority and all that it entails.
I'M HOPEFUL, because I know that while we still have race issues in America, we enjoy a much different normal than those of our parents and grandparents. I see it in my personal relationships with teammates, friends and mentors. And it's a beautiful thing.
I'M ENCOURAGED, because ultimately the problem is not a SKIN problem, it is a SIN problem. SIN is the reason we rebel against authority. SIN is the reason we abuse our authority. SIN is the reason we are racist, prejudiced and lie to cover for our own. SIN is the reason we riot, loot and burn. BUT I'M ENCOURAGED because God has provided a solution for sin through the his son Jesus and with it, a transformed heart and mind. One that's capable of looking past the outward and seeing what's truly important in every human being. The cure for the Michael Brown, Trayvon Martin, Tamir Rice and Eric Garner tragedies is not education or exposure. It's the Gospel. So, finally, I'M ENCOURAGED because the Gospel gives mankind hope.